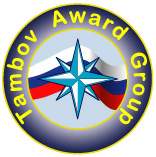 Attention! In total QSO LoTW are valid for RDA Programm.
The Russian Districts Award (RDA), sponsored by Tambov Award Group (TAG),
is issued for radio contacts with specified numbers of districts of the Russian Federation
according to the RDA list of districts.
The RDA award is available to all licensed radio amateurs and SWLs everywhere in the world.
The basic RDA certificate can be obtained for working at least 100 districts.
In addition, separate certificates and plaques are available as follows:
Award type
Class
Districts required
Certificate
RDA-250
250
RDA-500
500
RDA-1000
1000
RDA-1500
1500
RDA-2000
2000
Plaque
Honor Roll
2500
Honor Roll #1
ALL
Contacts may be made on any HF band using any mode since June 12, 1991.

Application
The application must be based on the QSL cards received. The use of our application form is recommended. An application must contain: callsign, QSO data and district number as per RDA list of districts. It is not necessary to submit QSL cards, however the award manager reserves the right to request any specific cards to satisfy any doubt. The application form must be signed by two licensed radio amateurs (with the highest license class) or an official of the local radio club. For later applications for higher class RDA certificates, only the subsequent QSOs must be listed, as well as the number of the basic award and the date it was issued.

Award fee
The cost of the RDA certificate (any class) is equivalent to $10 US or 10 IRC or 10 EUR.
The cost of the RDA-2500 "Honor Roll" plaque is equivalent to $50 or 50 EUR or 50 IRC.
The cost of the RDA-ALL "Honor Roll #1" plaque is equivalent to $65 US or 65 EUR or 65 IRC.

The address of the award manager:
RX3RC, Roman A.Novikov, Studenetskaya nab. 33/172-308, 392000 - TAMBOV, Russia

PayPal: rx3rc@rdaward.org

Frequencies
These are some of the frequencies where the RDA-activity can be found:
| SSB | 1850 3650 3780 7080 14180 18180 21180 24980 28580 |
| --- | --- |
| CW | 1820 3520 7020 10120 14020 18080 21020 24910 28020 |
with 14180 and 14020 being the most popular.
THE LIST OF DISTRICTS OF RUSSIA




Thank UA9CIR for translation!