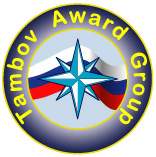 Attention! In total QSO LoTW are valid for RDA Programm.
The Russian Districts Award (RDA), sponsored by Tambov Award Group (TAG),
is issued for radio contacts with specified numbers of districts of the Russian Federation
according to the RDA list of districts.
The RDA award is available to all licensed radio amateurs and SWLs everywhere in the world.
The basic RDA certificate can be obtained for working at least 100 districts.
In addition, separate certificates and plaques are available as follows:
Award type
Class
Districts required
Certificate
RDA-250
250
RDA-500
500
RDA-1000
1000
RDA-1500
1500
RDA-2000
2000
Plaque
Honor Roll
2500
Honor Roll #1
ALL
Contacts may be made on any HF band using any mode since June 12, 1991.

Application
No application is required, we get all the data from the RDA Autocfm website:
http://rdaward.ru

Award fee
The cost of the RDA certificate (any class) is equivalent to 16 EUR.
The cost of the RDA-2500 "Honor Roll" plaque is equivalent to 70 EUR.
The cost of the RDA-ALL "Honor Roll #1" plaque is equivalent to 70 EUR.

The address of the award manager:
Due to Paypal sanctions, award payments temporarily go through Antonio IZ7AUE
Use recipient iz7aue@libero.it in your Paypal payment (AWARD 16EUR, Plaque 70EUR)
THE LIST OF DISTRICTS OF RUSSIA




Thank UA9CIR for translation!